---

Speaker Test (ST)
---
Speaker Test Software
---
The ultimate in technology

Production testing of loudspeakers has never been so accurate, simple, fast or easy. Speaker Test is a software package designed exclusively for use with the TEF analyzer for production on line speaker testing with high ambient noise rejection. Developed for use with a PC, Speaker Test software features a choice of engineer or operator mode. The engineer mode is used by quality assurance and engineering personnel who design and supervise the individual measurements and tests that make up overall product testing. The operator mode provides simplified menu designs for routine automated testing which can be initiated with a bar code reader or keypad.

The ultimate in versatility

Speaker Test is ideally suited at incoming inspection to verify the performance of individual components, during the manufacturing process or for final inspection. Tests available include frequency response, phase response, impedance versus frequency, single-channel FFT, harmonic distortion, harmonic tracking, THD and THD plus noise. Speaker Test gives you ultimate control over the testing process. Using a variety of simple to complex setups, Speaker Test can test many different operational parameters and determine overall pass/fail statistics.

The test can be as simple as a frequency response curve compared to a pass/fail window or as complex as 30 different tests performed back-to-back or in any selected order. Standards may be made from either a single loudspeaker or a batch with minimum/maximum values or standard deviation. Statistics of individual pass/fail criteria are maintained to help determine trends, and a review mode allows the engineer to re-test a specific batch of speakers off the production line using original measurement data stored on the disk.

The ultimate in Speaker Test Software

The TEF analyzer features two line-level and two preamp inputs. Any input can be selected in the software, ensuring maximum flexibility in the tests you want to perform. Test output can be sent to screen or printer or saved to disk for flexible handling of results in rework or reports. Up to two graphs can be printed per page.

To speak to the TEF Sales Department, call 203-938-2588.
Package contents

Cable for impedance measurements

Speaker Test software and manual

Test types

Time Test (ETC)

Frequency Test (TDS)

Test types (with pass/fail window option)

Frequency response

Harmonic tracking

Impedance vs. frequency

Phase response

FFT

Harmonic distortion

THD

THD plus noise

Test sequence

A specific production sequence can contain from one to 30 lines of screen text, buzz tests and remote triggering along with the above test types in any order or combination.

Primary features

Operator or engineer mode
View detail of each measurement
Smoothing of data and pass/fail limits
Tracking by serial number information
Output can be ported to screen, disk or printer
Statistical information on each model or batch
Password protection for Engineer mode
Multiple methods of establishing pass/fail limits
Site license available

Modes of operation

Operator mode: This mode is used by an operator performing routine automated testing. Options available in Operator mode are limited to those designed into the test by the engineer.

Engineer mode: This mode is used by quality assurance and engineering personnel who design and supervise the individual measurements and tests that make up overall product testing.

Pass/Fail limits

Pass/Fail limits can be created in various ways:

Setting an envelope in a specified range above and below a referenced loudspeaker
Statistical analysis of the measurements of a batch of loudspeakers
Using the cursor to draw any arbitrary limits

Once a pass/fail limit is created, it can be modified manually by the use of a cursor.

Operator mode-main menu commands

1) Select test

2) Do test

3) Set delay

4) Set amp level

5) Graph display (on-off)

6) Saved for future commands

7) Statistics

8) Keyboard/barcode input

9) Stop test

10) Quit

Selections 3, 4, 7 and 8 can be enabled or disabled at the option of the engineer.

Bar code reader

To gather information, start tests

Overlays

For data gathered in one specific test type; engineer mode only

Difference mode

Shows the difference between a measurement and the data in reference memory

External Trigger

External devices can be triggered through a parallel port on the computer

TEF requirements

Works with TEF25, TEF20 HI or TEF20 SHIP with DSP host interface card

Printers supported

Windows compatible printers

Computer system requirements

Pentium Class Microprocessor

RAM- Four megabytes of available memory

Monitor- VGA (640x480)

Hard disk - 80 megabytes

Operating system - Windows 95, 98, ME, NT, 2000 or XP

FOR TEF20's -

Interface- One unused 8-bit ISA PC slot for installation of DSP host interface card. Not compatible with the IBM* Micro Channel Architecture (MCA) bus

®The trademark SOUND LAB is licensed under United States Trademark Registration No. 1,424,678 and 1,732,027.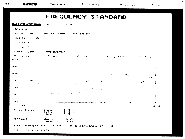 PASS/FAIL WINDOWS CAN BE EASILY RECALLED FOR REVIEW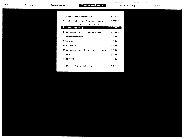 ENGINEER MODE PARAMETERS MENU WITH FREQUENCY STANDARD ENTRY SELECTED.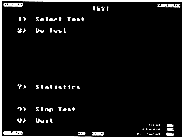 STARTUP SCREEN FOR OPERATOR MODE.